Pernah tak (masa jadi student dulu ataupun kalau korang sedang study sekarang )korang terfikir soalan2 yang macam I tulis kat bawah ni? :-
1) Pernah tak masa belajar dulu korang terfikir, kenapa lah aku kena belajar semua ni?. Bukan nak guna pun masa kerja nanti.
2) Pastu nak lagi best, korang tefikir apasal la ada orang nak invent equation2 macam2 ni..buat pening kepala
jer nak selesaikan equation tu. → e.g : Euler eqn, Laplace Eqn, Taylor series Espansion, Reynolds Eqn, Navier Stokes eqn, and etc
3) Apasal orang cakap programming di guna untuk memudahkan calculation, tapi masa nak taip coding untuk calculation tu, otak serabut
tak hengat...dah tak jadi mudah dah pon hu
hu.
*berpuluh2 tab kena bukak semata2 nak belajar code FORTRAN uhuhu*
4) Pengamiran (iteration) tu dah lah memang kompleks, kenapa lah nak kena ada banyak2 method pulak nak selesaikan. Method mana nak guna ni?
→ e.g : Gauss elimination method, Jacobi method, Gauss-Seidel method, SOR method, etc
5) Yang ni bila dah tak puas hati tahap kronik, korang pun terfikir→
"saintis2 zaman dulu takde tv, internet so diorang bosan takde buat apa2 kat rumah. jadi diorang pun invent la macam2 equation"
muahahahaha.
Sepanjang minggu lepas, persoalan2 itu la yang duk menyesakkan saraf otak I *bukannya nak fikir camne nak solve equation tapi duk salahkan orang2 yang invent equation2 tu* eheh. Bila ada orang bagitahu yang diorang kagum dengan I sebab pegang status wife + mommy + student di negara asing, I tak rasa yang penghargaan itu layak untuk I. Bila chatting dengan I, kawan2 I cakap diorang kagum dengan kegigihan I tapi I sendiri rasa kekaguman itu tak layak ditujukan untuk I.
I rasa tak layak pun untuk di kagumi sebab walaupun nampak I ni macam happy with my life, I surely have my ups and down with my life as a wife + mommy + student. In fact, minggu lepas I siap nangis menitik air mata bila tak reti nak buat coding programming yang

simple

. I was given a task to create a FORTRAN code to solve diffusion equation using FTCS method for Euler explicit scheme

*kepala berpusing2, mata berpinar2*

.

Furthermore, I have to produce the u(t) vs x graph to show the result. I lansung takde idea camne nak buat walaupun I baca banyak notes dan refer banyak codes. Last2 I nangis
huk3x. Luckily my tutor tolong ajar I. Tu baru simple equation, macamana I nak solve boundary equation untuk wind flow behavior all over Malaysia nanti?
*mata terbeliak
............pengsan!*

Kadang2 bila I stressed out with my study, secara tak sengaja I akan 'melepaskan' rasa tertekan tu pada hubby & baby SN. Bila dah jadi macam tu, I rasa macam I'm a bad wife and a bad mommy...sebab tu lah I kata I tak layak untuk di kagumi pon since I sendiri tak dapat mengawal emosi bila berdepan tekanan.
Tapi, bila2 I tension with my life as a student, I will always has hubby to lend me his shoulder to cry on.
I managed to put myself together again with his help and support.
Thus, I'll remind myself with this quote that I've created on my own based on my studies →
"Life wont be flowing in a Laminar Flow state at all times, instead Turbulent Flow will also arises here and there just to ensure that the vortexes that occurred in our life will make us remember where was our initial condition i.e to seek for Allah's help."
~
yatie chomeyl's palsampah
~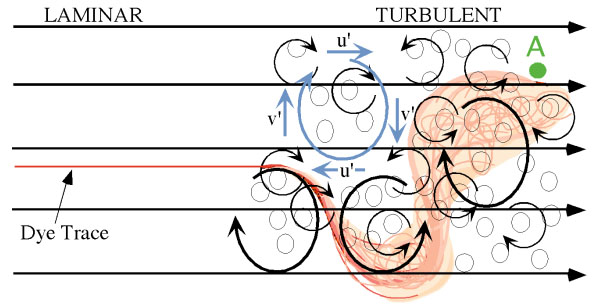 (pic source:
MIT open courseware
)
* Laminar flow = A desirable type of fluid flow in which fluid moves smoothly in individual layers or streams
* Turbulent flow = An undesirable type of fluid flow in which fluid moves roughly and erratically
* Vortex =

the shape of something rotating rapidly
Pssssstttttt : setiap kesulitan yang berjaya di atasi itu, akan membawa bersama nya kemanisan yang berpanjangan, kan kan kan?